FRENCH QUARTER SUPERNATURAL TOUR + GHOST HUNT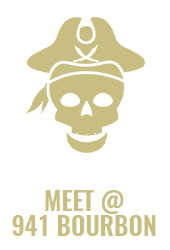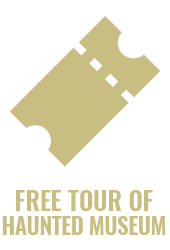 HAUNTED GHOST HUNT & WALKING TOUR
Conjure the spirits, hear their history and step back in time. Your New Orleans Voodoo priestess opens the gates for you to know voodoo from the inside. You can even dabble in a few spells, then grab paranormal equipment and experience your hands-on Ghost Hunt!
French Quarter Supernatural highlights:
• Historic haunted houses: Marie Laveau, Jean Lafitte, Julie the naked ghost, and our mad Madame LaLaurie- a real true American Horror Story
• Meet and greet a flesh and blood modern day Voodoo priestess and witness a ritual blessing
• Share secrets of New Orleans Landmarks at 3+ of our oldest buildings
• See true Voodoo Hoodoo inside the Voodoo Pharmacy and Voodoo Hall of Altars
• See the whereabouts of New Orleans 19th century vampire lair
• Ghost Hunt with paranormal equipment inside a 200-year-old documented haunted site
Experience history and mystery with Bloody Mary's Tours, a hands-on ghost tour with the New Orleans Insiders. Ghosts, Voodoo, and a touch of the Vampires plus the paranormal at your side makes this THE tour to book NOW!
• • •​
8:00pm | Fri, Sat, Sun | 2½ hours
$58 per person
(max 18 people)​
What to Expect with Bloody Mary's Walking Tours
(Private custom tours are our specialty and designed just for you.​)
Book Bloody Mary's premier walking tours to walk the insider's circle and join the spirits of the French Quarter during the Supernatural Tour, Haunted Pub Crawl, or Tour of the Undead.

Go inside and out of old buildings as we show you the other side of New Orleans.​
Wear comfortable shoes and clothes and bring your favorite device for photographs, there will be plenty to sights to document and you may even capture a few orbs and entities along the way! However, please note that the ghosts of New Orleans are not on our payroll; sometimes they show up and sometimes they stay hidden.​
One of the benefits of booking a Bloody Mary cemetery tour is having a licensed tour guide that can show you around the historic burial grounds. Guests cannot enter the cemetery without a licensed guide, so you are guaranteed entry with any of our cemetery tour bookings. Plan your walking adventure today!​
• Alcoholic beverages are allowed on the streets in New Orleans, but you can be arrested for being drunk in public. Drink responsibly.
• Please come sober and eat before tour. There are no food stops on tour.
• Ghosts are not on our payroll; sometimes they are busy elsewhere, sometimes they walk with us.
• Closed-toed shoes are recommended as a smarter decision. Broken bottles, sidewalks and other unknown substances are scattered about. Fire ants are on some tours in the parks which get at you easier in flip flops.
• There are designated drink and bathroom stops on some tours – please use them or ask guide to show you!
• We are not responsible for you if you wander away from the tour group and get lost.
• The Haunted Pub Crawl Tour contains adult themes (historic prostitution); all other tours are appropriate for all ages.
• We reserve the right to refuse without refund if you are disruptive or abusive (drunk or sober).
• Your outside drinks may prevent entry to some locations on pub tours.
• Drinks are not allowed in the cemeteries or inside the buildings on paranormal investigations.
• Drinks are not included in the price of the tours.
• Unacceptable behavior will not be tolerated, nor any graffiti or desecration to the tombs.
Meet @ Lafitte's Blacksmith Shop
in the patio
941 Bourbon Street