Awarded the TripAdvisor Certificate of Excellence 2022

Voodoo Shop & try
Psychic Readings
Go deeper on after hours Ghost Hunts & Events!
Come book our small group public Ghost Hunts OR create private ghost hunts to explore after-hours inside our documented haunted 200 year old building. Your ghost hunter host will lead you on Muti-sensory paranormal explores. Come connect with ghosts using psychic, holistic & Voodoo Paranormal investigation techniques with state of the art professional paranormal equipment + enjoy your ghost hunt night vision playback on site! We have progressive full paranormal nights out on out Ghost Town tours to multiple locations with a cemetery! Expand and plan a whole private Haunted Night at the Museum for a Paranormal party-
You deserve the best, so pamper yourself with a full psychic tune-up, a cleansing, or a Magical shopping spree. Face the magic in our full metaphysical brick 'n mortar Spirit shop and enjoy a wealth of priestess made hoodoo items mystic art, bones, crystals, candles, potions, charms Come get a psychic reading or spiritual service! We have private spacious readings rooms, an open air courtyard + a full voodoo pharmacy. Meet my fabulous in-house psychic mediums or Join a small group Victorian Séance and paranormal experience! Get psychic readings here or by phone. Book yourself a psychic party ! Visit the Haunted Attic & Tea room with vintage, oddities and little haunted things.
Face the spirit world at Bloody Mary's Haunted Musuem. Explore haunted possessions, true crime, occult collections and voodoo altars all in a paranormal history very Haunted museum. Will you meet the 13 resident ghosts? Haunted Museum tours by day ghost hunts by night . Wander through Paranormal displays and come spirit shop! Hear the haunted history behind New Orleans Ghosts on your visit. Come see a haunted collection, haunted dolls, Victorian Séance parlor, ghost photo gallery, Occult artifacts all in a 200-year-old French Quarter haunted house. Explore paranormal evidence and the Who's Who New Orleans Ghosts. Relax in a beautiful hidden Creole courtyard, and see 4 haunted outbuildings as you feel the history come alive,
Visit a real
Haunted Museum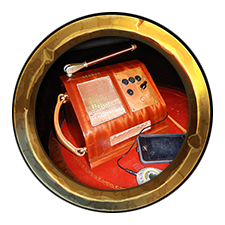 "This Haunted Museum in New Orleans is not for the faint-hearted​!"
The Haunted Museum & Voodoo Shop features Haunted Museum Tours, Ghost Hunts, Haunted Collections, Paranormal Evidence, Psychics, Séance Parlor, Classes, Voodoo Pharmacy, Voodoo Doll Bar, extended City & Cemetery tours, Voodoo & Metaphysical Shop, Gris-Gris and Ghosts!​
Get a Sneak Peak of the
Haunted Museum​
This video is about the early stage of Bloody Mary's New Orleans Haunted museum. Follow the haunted journey from the beginning.
Come face to face with Voodoo, the occult and the dead at our very haunted paranormal history museum and psychic center + a full voodoo shop! Tour a 200-year-old historic French Quarter building. Feel the infamous haunted atmosphere as seen on History Channel's Haunted History, Paranormal Lockdown , Paranormal Files and Buzzfeed: Unsolved. Join a guided tour through the Haunted Museum with a ghost photo gallery, séance parlor, Voodoo Hall of Altars, psychic center, PSI testing area and 13 resident ghosts!
NOTE: Upgrade by booking one of our ghost hunts, walking or van tours online, & the Haunted Museum is free.​
View the real
Ghost Gallery
Book a Walking
or Luxury Van Tour
See a sample of Bloody Mary's
Ghost Gallery Pics, Videos & Sound
We encounter anomalous evidence every day on and off site, all throughout New Orleans and especially in our own Haunted Museum. Share your own evidence of spooks and see what we have captured on film and tape by voices, videos and photos!
Bloody Mary Tours offers a wide variety
of on and offsite tours by foot and by van.
Discover our tour combos to explore the neighborhoods of New Orleans such as Treme, Mid-City Bywater, Marigny, Garden District, and the famous French Quarter, plus see above-ground cemeteries and even tour the haunted bars of Bourbon Street!
Bloody Mary's premier New Orleans Metaphysical Spirit Gift Shop
The Voodoo witch Shop includes a Conjure Corner, Crystals, Candles, Curios, Oddities the New Orleans Voodoo pharmacy, Gris-Gris, Voodoo dolls, crafted spirit tools, bones and baubles, Haunted dolls , Spirit Boards & Ouija Boards and Original Mystic Art.
Browse the Voodoo
Shop Online
AND A HAUNTED DOLL NURSERY...
Museum tours by day,
Ghost hunts by night...
12-5pm Sun thru Thurs, Fri & Sat 12-6pm
+ after hours haunted events by reservation
828 N. Rampart St in French Quarter
Voodoo day &night tours, cemetery &
supernatural experiences + Psychics
And the world famous seance parlor!
%content7%
RESERVATIONS: 504-915-7774