​
3 in 1: Psychic Fair | New Orleans Voodoo Fete | Para-Con
for ST. JOHN'S EVE June 2020
Dig deep in the other side and let Swamp Magic NOLA Fest answer all your questions about Mystic New Orleans!
Ever wonder why New Orleans is known as America's most haunted city? What about New Orleans Voodoo and all that Jazz? Do people really flock here just to tap into our magic? Why is New Orleans such a mystic paranormal hotbed? Maybe you want to come explore some Swamp monsters too?
Come meet Voodoo Queen Bloody Mary and her fabulous presenters because you deserve answers. In other words we present you with both the dark and the light sides of New Orleans- the natural and the supernatural because we are proud of all of our hometown heritage.
Rituals, Blessings, Classes, Outings & Events June 21 | 22 | 23
Reserve soon right here to make one great Festival
Come to the source to #Facethemagic at SwampMagic NOLA Fest on St. Johns Eve Solstice Time. Festival event times and classes updated by March. Join us in New Orleans in June or now to dabble in the other side of NOLA .
Swamp Magic NOLA Fest...
Our spirit of place is wise and wily. The river is the mama and at her core is Swamp Magic. In addition her sweet waters are primordial, creative and transformative. The Crescent City's liquid magic is suspended with mystic mud and clay fermenting, pulsing under every step you take! Therefore the schooling here is natural and if you listen it talks- plus it is imbedded in our music and our magic. It's in our very souls. Let us, the locals, share some of those secrets with you when you #FacetheMagic with us.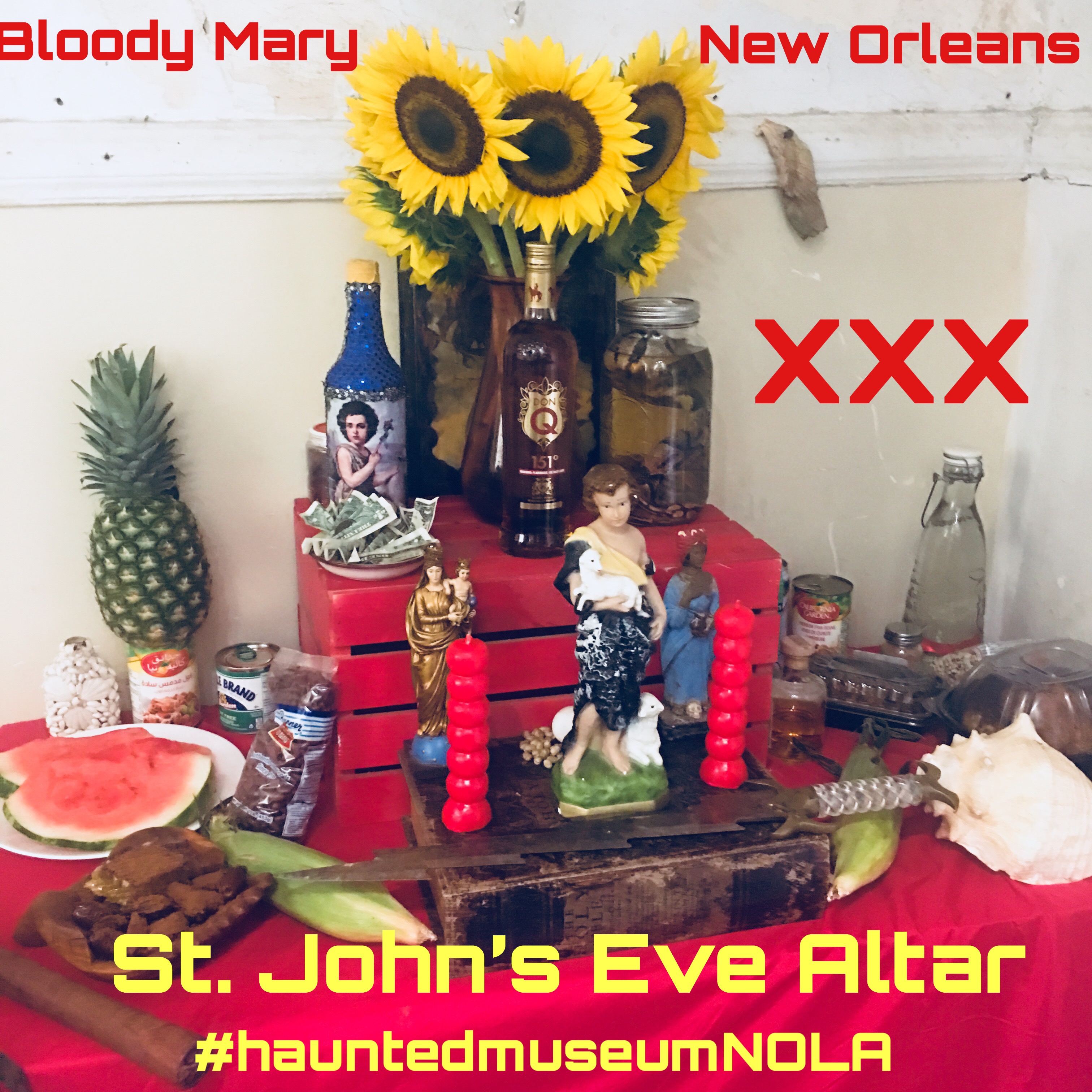 "Green is gold, Fire is wet, Futures told, Dragons met."
June 23rd is THE time of year to connect because it's St Johns Eve. Midsummers time was always magical! It is this Solstice time that solves the ancient riddle above. This is New Orleans Voodoo most magical day of the year. Even before the times of Voodoo Queen Marie Laveau the Solstice time was for cleansing, baptizing and stopping storms. The Bloody Mary New Orleans Haunted Museum & Mystic institute invites you to add your hands-on in with us!
River & Fire Baptisms, Ghost Hunts, Divination, Drum, Dance Seance, How-to Hoodoo Classes, Tours & Voodoo Paranormal
Come join this 3 day fest of events and magic at Swamp magic NOLA Fest and Bloody Mary's 26th annual St John's Eve Ritual River Baptism on June 23rd. Join us for rituals, classes, Seance and Spirit shop Voodoo Garage Sale on June 21 and stay into the evening on June 21 and 22 where we offer even more haunting experiences, paranormal experiments and exclusive tours and events.
Bloody Mary and Haunted Museum goals:
Advocate spirits rights and preserve the supernatural landscape of New Orleans.
Teach communication to connect with the living and the dead.
Preserve the customs that others try to whitewash
Illuminate Voodoo & Hoodoo history & mysteries
Salute the River Spirit and Swamp Magic
Honor all religions
Help Heal
Meet Voodoo Queen Bloody Mary and a whole slew of local traiteurs, healers, swamp witches, mystics, psychics,
priestess and adept locals to teach you from inside the box. Plus meet Key note speakers, priests, authors, paranormal investigators and surprise guests who help you connect to #Facethemagic with us at Swamp Magic NOLA Fest.
We reclaim the matriarch and donate partial proceeds to help Stop Domestic violence with New Orleans Family Justice Center and Save the wetlands with Louisiana Bucket Brigade. She will add a very special Hoodoo Happening tribute to Marie Laveau, Build an Altar to St. John, a salute to the Spirits of New Orleans and especially honoring our Goddess: River Mamma Maman You and La Grande Zombi.
Meet our Magical New Orleans women and the men that stand behind them.
"We are who those other people only talk about. We live it, own it and share it to you direct from the source!
New Orleans is that notorious, primordial, creative matriarchal mystical force that we, the children of the river speak out as the source (and are the talk of the town because of it!) We get our hands dirty and our souls clean cause we face the dark side, dip and dance with it and spin you into balance, with no fear ..."
Get your Skeleton Key Here
Even if you can't come to New Orleans this time you can still help out and be a Skeleton Key member and help donate to our great causes plus get voodoo buck discounts, a free 1 question text reading answered plus a blessed skeleton key ! JOIN NOW
All Inside the New Orleans Haunted Museum and our fabulous courtyard 826 & 828 N. Rampart Street in the French Quarter. We reclaim the matriarch and donate part of the proceeds to help stop domestic violence through New Orleans Family Justice center and by benefitting The Louisiana Bucket brigade and save the wetlands at the same time!
Cocreate with Bloody Mary #HauntedmuseumNOLA
Celebrate Swamp Magic NOLA Fest New Orleans style!
BOOK SOON limited Space Avail- so hurry!
June 21, 22 & 23 2020 504-915-7774